Clarify Your Message & Crush Your Marketing Goals
Does your marketing "plan" feel like a hamster wheel? A never-ending cycle of wasted time, money and energy? There's a solution! The Kickstarter Program creates a steady, actionable, attainable plan to meet your goals. Goalpost delivers sales and marketing expertise that leverages the power of your organization to drive explosive growth! 
The Kickstarter Program starts the digital asset build necessary to align your sales and marketing message. We set milestone deliverables through an agreed project plan, and develop a baseline for your sales and marketing efforts. 
In just 90 days, you'll be off the hamster wheel and on a clear path to success!
Create the marketing platform you need to propel business in just 90 days.
In the full Kickstarter Program, we build the platform you need from scratch. If you already have some killer assets, a Mini Kickstarter will get you what you need–fast.
Kickstarter Deliverables: Here's What You Get
Marketing roadmap

Optimized website for higher lead conversions

Messaging that resonates with your customers

New website framework (up to 5 pages)

Lead-generating PDF
Customer testimonials

Customer referral-generating email

Customized BrandScript

Framework to build future offers

Catalog of requested content

Automated email campaign
Kickstarter Lessons: Here's What You Learn

Storybrand is like the operating system in your computer. It's the code that drives your marketing message and the framework that will give all of your marketing a cohesive story to tell your customers.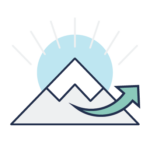 Through the Content Summit Team Training, we help get you out of the habit of producing content for content's sake. Instead, we teach you how to craft content that is strategic, interesting, and engaging!
Ready to kickstart your marketing?