22 of the Freshest Digital Marketing Trends of 2022
While nobody can say with 100% certainty what the future of marketing holds, these 22 trends are on the upswing as we move into 2022.
From short-form video to social media takeovers, story-driven marketing is dominating the playing field in the coming months. Here's what to expect, how to apply the most popular trends …or avoid them if they're not the right fit for your business. Remember, you don't have to do EVERY single marketing tactic that is hot at the moment. That's why having a marketing strategy is so important – so you can intelligently choose which marketing bandwagons to hop on to and which ones to let pass by.
Check out our list below and let us know if you'll be utilizing any of these marketing trends in the coming year!
1. TikTok
It's no secret that Tiktok has opened the door to a whole new landscape of digital marketing. With over 689 million users worldwide, Tiktok is the single most downloaded app on the planet. Users spend an average of 52 minutes per day scrolling through the app, meaning you potentially have 52 minutes of undivided consumer attention that's up for grabs if you want to take on this short-form video content.
Is TikTok right for you? If you cater to Gen Z, have a humorous business culture, or already have loads of video content that can be chopped up, sped up, and uploaded with minimal effort – then TikTok might be a great option for your social media marketing. To get started, simply download the app and create a business profile – it takes less than 90 seconds – and begin increasing customer engagement with creative videos up to three minutes long.
Join loads of trending 'challenges', make use of popular hashtags, and take advantage of the opportunity to show off a lighter, more playful side of your business. Your customers will respond by sharing or engaging with your videos, boosting your visibility and organically growing your following.
2. Instagram Reels
Similarly to TikTok, Instagram reels live on your Instagram profile as bite-size video diaries designed to give users a more in-depth look at your messaging. These short videos can be edited to include fun filters, gifs, music, and other dynamic elements. We like this trend because most businesses already have an Instagram profile – so you're just enhancing what's already there and providing your audience with a different form of content on a platform where they already follow you.
Looking to make a brand announcement? Maybe feature a new product, highlight a promotion or show off your silly side? Reels are the perfect solution. You can also track metrics like views, engagement, click-through rates and shares using a Business or Creator account – just toggle on the appropriate label under Account Settings.
3. Podcasts
Podcasts With an estimated 123 million active listeners in 2021, podcasts are expected to see an upward swing of nearly 160 million listeners by 2023.
But, don't let the competition intimidate you – research shows that the average podcast listener rotates through six podcasts a week, making the audio landscape a viable growth opportunity for any business looking to expand in 2022.
Is audio content right for you in 2022? If your company has an overarching narrative where people can tune-in to hear the latest installment in your story, then this might be a good fit. Or, if you have weekly tips that you want to record but would rather stay away from the camera, a podcast can be a great alternative.
If you don't have a podcast platform for your business, consider making 2022 the year of the download. Episodes can be as short as 15 minutes, with features including guest interviews, listener questions, and storytelling to keep listeners engaged and more likely to share with friends.
4. Facebook Ads
Facebook Ads Facebook (or Meta) has increased its capacity to create and market dynamic ads using elements like video, blog features and website hosting. Users with a business or even a personal page can design custom ads and target specific audiences. You can use preferences like age, location, interests, and gender.
This isn't a new tool – but it is a changing tool as Facebook rebrands. If you're trying to reach new customers or engage with your current followers, Facebook ads deserve your attention in 2022. Already have active ads? Check out some changes to the targeting tool and tracking ability.
5. Microblogs / Mini Bog Series
Pillar content (blogs ranging from 3,000 – 10,000 words) is still valuable for establishing your expertise and authority in your industry. Though, blogs have migrated to shorter, more condensed features as attention spans have shrunk.
Try a 500-word blog, complete with well-placed imagery, gifs, videos and colorful CTA buttons. Even better: launch a short, themed blog series that users can subscribe to and drip content over the period of several weeks.
A great place to start is to take one of your longer form pieces of content and break it up into several mini blogs.
6. Vlogging
While not for everyone, vlogging (also known as 'video blogging') is a creative way to visually engage users. Similar to 90-second movie trailers that generate interest for blockbuster flicks.
Especially for businesses marketing to a younger demographic (12-34), vlogging can be a great way to establish a story arc for your products. Additionally, it introduces customers to the 'face' of your brand.
By creating consistent vlogs and building a relationship with one or two key people in your marketing department, customers develop a sense of personal connection with your brand. Eventually, they begin to make purchasing decisions based on the sense of trust they've built with your vlogger.
7. New Business Cards
While in-person events have been limited due to COVID-19, refreshing your business cards is a simple, low-cost way to elevate your brand. It leaves a lasting impression on new customers and prospective retailers.
Sites like Canva and Vistaprint allow free mockups and offer affordable prices for batch printing. Gone are the days of expensive, boutique designers that would take weeks to generate custom orders. Now, you can transform and order your business cards in a single afternoon. These are great for in-person business and can easily translate to the digital world if you update your email signature with the same content and design that you see on your cards.
8. Networking Events: Virtual or In-Person
Face-to-face networking is still the most powerful way to make a lasting impression on customers and industry experts. From coast-to-coast, business professionals have taken it upon themselves to coordinate dynamic meetups that galvanize creativity and build meaningful connections. This can be accomplished in-person or online. The pandemic proved that virtual meet-ups are possible and still effective.
Creative Mornings is one of the largest national professional networking opportunities, with monthly meetups in every major city across the country. These free events boast TED Talk style presentations, free breakfast, meet-and-mingles, and the chance to swap contacts with people in similar industries.
9. Local Brand Building
Nearly every town and city has an online calendar of local events, charities, festivals, parades and seasonal markets. Plug in to your community calendar and consider advertising at a local event, grabbing a spot on the radio waves, or volunteering your time at a community gathering.
Part of helping people see you as the reliable choice for your industry is maintaining an active presence in their minds. You can do this by prioritizing time in public to establish your business name and reputation.
10. Social Media Contests/Giveaways
Everyone loves free stuff. Therefore, social media is the perfect platform to promote your business while offering a reasonable incentive for people sharing, liking, commenting, following, tagging, etc.
Consider running a giveaway on your Instagram or Facebook page. Instruct your followers to tag friends or repost your content in exchange for the opportunity to win a material prize. At the end of the contest, you'll have gained more followers, expanded your online reach, and have increased information on your customer demographic. Win-win!
11. Creating Infographics
On sites like Pinterest and Medium, infographics are constantly being used. They reference visual data and help customers make informed purchasing decisions. By designing infographics, you have control over the information being distributed to potential customers. You can use the image to point them back to your website and product pages. Even if you're not active on Pinterest, an infographic is still a great visual tool. Infographics share relevant data with your followers.
Take a look at your industry and identify five areas of education you could share with your customers in visual form. Have an in-house designer or contractor whip up a colorful, engaging infographic. Then, distribute it online with backlinks to your website.
12. Industry Partnerships
It's true what they say about power in numbers.
Join forces with another prominent industry leader. This could be for an educational summit, blog post, video campaign, podcast, or webinar. Then, watch as your individual audiences merge.
The benefit to industry partnerships can't be overstated. Especially when businesses offer products or services that aren't in direct competition with one another. By combining two strong leaders or experts to create a shared form of media, you double the chances of user engagement. In this case, it creates interest that translates into increased customer by-in.
13. Customer Satisfaction Surveys
While not every customer will be interested in providing feedback, satisfaction surveys are a great tool for your internal team. In addition, they show that you care about the customer experience. You can use these data points for many things. For example, to better refine your buyer journey, marketing strategies, website interface, customer service channels, and countless other processes. 
First, create a quick customer feedback form using a site like SurveyMonkey. Then, send it out at the close of every customer transaction (or a more general form at the end of every quarter). Lastly, use the information to sharpen your marketing.
14. Referral Programs/Points Systems
A recent survey found that 92% of customers trust the word-of-mouth recommendations of friends or family over any other form of marketing. 
A referral program that rewards customers for sharing information with their network is highly effective. It's one of the quickest ways to build brand loyalty and boost sales. Reward your customers with purchase points, frequency discounts, or membership rewards. This will incentivize them to become dedicated brand evangelists at zero cost to you.
15. Partnering with Influencers
Influencers aren't just for Gen Z-targeted brands. Prominent players on social media can pull thousands, if not millions, of clicks on a single post or share. By investing in well-known influencers to use and promote your brand, you are opening up the door for your business. Countless people will see, hear about, and buy your products.
Make a list of a dozen well-known social media influencers in your industry. Then proceed to gather information of what it would cost to have them promote your product or service. By offering discounts, codes or bundles, you can incentivize customers to interact with you, grow your following, and generate sales.
16. Generate Customer Testimonials
93% of customers read online reviews before purchasing a product. Incentivize happy customers to leave you glowing reviews by sending timely follow-up emails. These should have generous discount codes on their next purchase with proof of a review.
17. Go Live on Social Media
Hop on Facebook, Instagram or Tiktok and interact with your followers in real-time using the Live tool. Schedule a product demo, interview a team member, host a giveaway or do a Q&A. This helps generate excitement around a new product launch.
To keep excitement high, let viewers know you will be giving out free samples or performing personal shout-outs. Motivate customers to interact with you. This can be done by asking questions, featuring guests, or sending out exclusive product links with great deals all throughout your session.
18. Twitter
With close to 400 million active users, Twitter is among the top three most popular social media platforms on the globe. But, it sometimes doesn't get the play from brands like Facebook and Instagram.
In 140 characters or less, you can engage your audience using your brand voice. Wether it's silly, serious, witty, dry, or joyful. Twitter is an excellent opportunity to hone your tone and build a loyal following. Due to its limited posting abilities, Twitter is a social media platform that you can utilize with minimal effort. Just take the content you're already generating and chop it up into short, sweet commentary. This can be scheduled to go out 1-3 times per day.
19. Start a Social Media Challenge
An excellent way to build excitement around a new product launch, revive a bored audience, or reach new customers is to launch a social media challenge. These can motivate your followers to promote your brand without your company ever spending a single dime.
First, pick out a hashtag. Then, make a few initial posts explaining the challenge. Offer incentives to users who tag you in posts as they participate in the challenge. For example, let's say you're a business in the fitness industry. Try a 10 day fitness challenge with custom workouts to complete each day. In the food industry? Share easy-to-make recipes.  Encourage users to try them out at home, tagging you in the finished product. Medical? Start a "Things I Wish I Could Ask My Doctor" thread on Twitter.
20. Guest Blog Posts/Social Media Takeovers
Tag team a blog post or hand over your social media to a well-known influencer, author, creative or industry leader. Watch how their audience organically crosses over with yours. By temporarily giving your platform to another influential leader, you have the opportunity to grow your reach. Simultaneously, generating some fun, fresh content in the process.
21. Give Exclusive Follower Discounts
Reward your followers and loyal customers with exclusive deals and discounts. Share a temporary discount code on your Facebook or Instagram stories and keep it live for 24 hours only. For those already on your email list, consider sending out a one-time code for money off their next order as a well-timed thank you.
Have a backlog of abandoned digital shopping carts? Send out a FREE SHIPPING code to incentivize uncertain shoppers to jump back online and seal the deal.
22. Promote User-generated Content
In the era of social media, free marketing has never been easier to come by. Your customers just might be the money-making secret when it comes to widely promoting your product or service.
In the retail industry? Generate a brand hashtag and encourage customers to use it when posting selfies of themselves out and about in your clothes. Run a restaurant, food truck or cafe? Have customers tag you in their brunch pics and latte art shots. Healthcare? Post a flyer in your waiting room inviting patients to post a review and tag your location to be entered into a monthly raffle.
Customers love being recognized publicly, and one of the easiest ways to do this is by sharing their content in reposts, stories and features for free on your social media pages.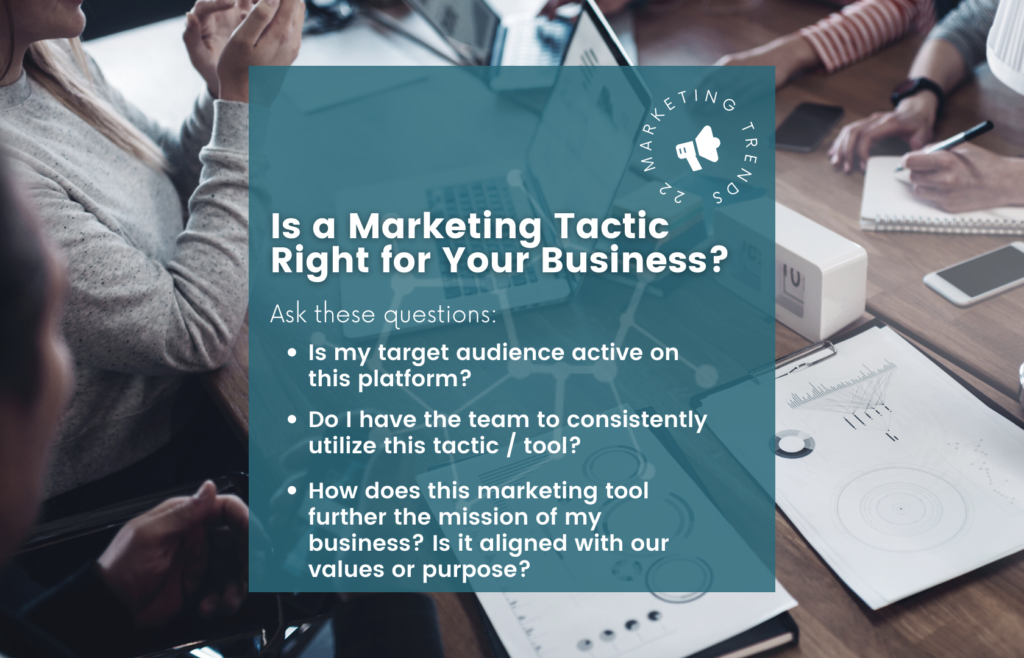 Want to Get In On the Marketing Trends for 2022?
We Can Help.
Goalpost Group is a versatile team of business experts in all of the marketing tactics above, as well as passionate strategists when it comes to reaching your business goals. We connect the dots between what you do, what you know, and what you want to achieve.